I believe many of us were positively surprised by the new C/AL Editor in NAV 2016. At the various conferences last fall it got the applause it deserved, even though it has some hiccups. Like not being able to use the Symbol Menu to paste functions, variables, etc.
One of the minor new cute things is the coloring of Date, Time and numerical constants:
//Numerical
1234
9,876
//Date
311215D
//Time
235959T
//DateTime
0DT
I must admit the fuchsia coloring of numericals is somewhat awkward, but surely it discriminates very well and I promise I will not mention, or even complain about, it again after today. Not in the least. There are better things to complain about, like the topic of today's post. You might fully disagree with me on this (and please share this below as a comment), but I clearly don't want my documentation trigger to be like an Xmas tree, Mr. Microsoft. Watch this …

Ouch, that hurts my eyes. I get totally lost. Am I looking at code or am I looking at documentation? We haven't upgraded yet to NAV 2016, but I fear the moment we will have and I will open one of our objects facing the documentation trigger. Why wait? Let's give it a try.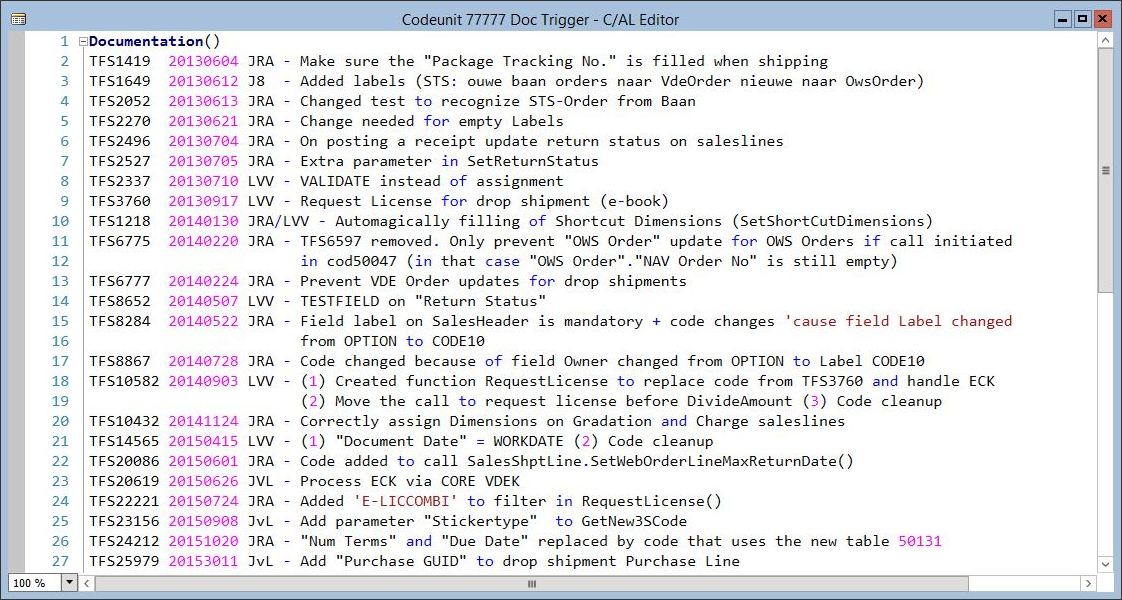 Nope, I am still not a fan, Mr. Microsoft. So my …
Suggestion
… is to disable coloring in the documentation trigger. For this I have reported this issue on msconnect. Click here and give your vote, in favor or not.
BTW
If you haven't seen the editor yet (hard to imagine, isn't it?) or haven't found many of it's nice feature, have a look at this elaborative post by Olof Simren.