I guess for all of us NAV pros Ctrl+F8 is one of those tools in our daily work that can be reckoned indispensable. Confronted with a record containing some mysterious data how often by default do we press this magic key combination to have a look at what's behind.
About This Page
Only late in the development of the NAV 2009 this feature was also added to RTC: About This Page. How happy we testers were to be able to zoom into the background data. How even more surprised I was that About This Page was even giving me more information than I was used to in classic mode.
Alphabetically ordered fields, including field ID (no need to loop-search!)
Explicitly stated PK fields
Page information
(Flow) Filter settings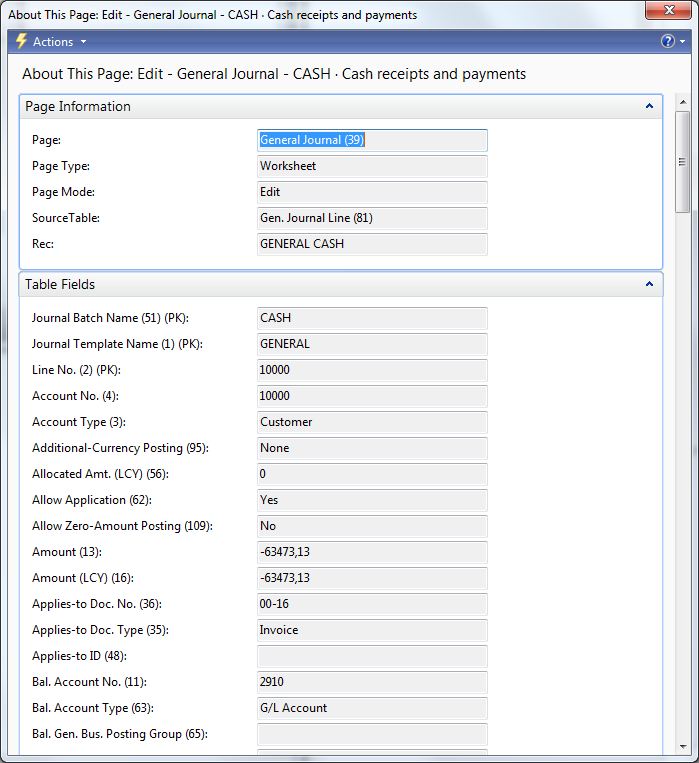 Magic Key Combination?
Sitting in one of those rooms around the world witnessing the Microsoft Dynamics NAV 2009 R2 Developer Day I heard Bardur Knudsen stressing a couple of times the importance of the About This Page feature. And then I realized that I have never been using the RTC zoom-feature as frequent as I am (still) using it on classic client. As digging into data is part of my development habits so by default a classic client thing? As Ctrl+F8 is not working on RTC? As, and I only found out today, the About This Page shortcut – there is one – is not working (on my machine only?)?

Source Expressions
One part I haven't figured out well enough is the Source Expressions FastTab:
Still have to dive into that more.
Note
For those of you writing Online Help (I wonder who does seeing no comments on my query here [H]): Ctrl+F8 is a great companion when writing Online Help referencing standard NAV topic as a basis for the topics I want to create. Proven to be a very efficient way of finding the right topic. And … luckily this also applies to About This Page. Select the value cell of the relevant field and push F1.