A new menu item on the Tools menu!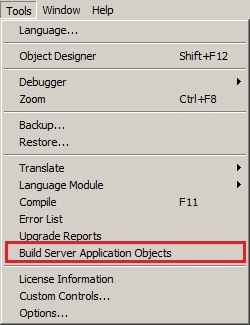 OK, I immediately had my thoughts to this, but just wanted to be sure so did ask some MSFTs. Thank you! [B]
Executing it:
regenerates the objects' C# and meta data info needed for the server and
updates the Object Metadata table
This applies to cases in NAV2013 where some imported .fob files contain objects exported from a native C/SIDE database (no C# and meta data info!) or contain such info but in incompatible format (old meta data version).
The menu item (partly) replaces' the Enable for Microsoft Dynamics NAV Server checkbox on the Alter Database window (notice that the checkbox has been removed from the Alter Database window).
But to be honest: have been playing around a bit with it, but do not have a real clear feeling about yet. If so, I will update this post. Anybody else is invited to add any relevant info below as a comment.