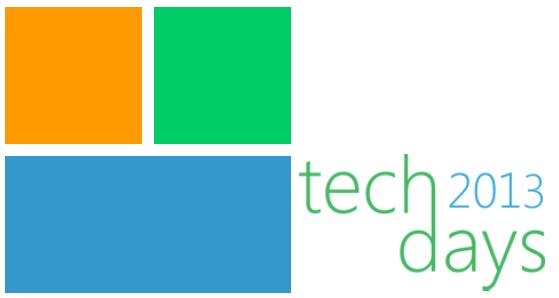 With our full, newly formed development team we joined the first day of the TechDays 2013 in The Hague (NL). Consisting mainly of .NET developers there was an ocean of presentation to choose from. Being a NAV techy only this ocean was reduced to the size of at least the North Sea. Should I have mourned? Well actually not. Don't know about you, but I can handle only one presentation at a time. So more or less my program of that day was sort of set from the start.
Building Win8 apps? nope
Mobile matters? nope
ASP.NET? nope
.. etc. …? nope
TFS? Ah, now you're talking
So what did I join:
Brian Keller – Application Lifecycle Management: It's a Team Sport
Fokko Veegens – Customizing TFS 2012
René Van Osnabrugge – Team Foundation Server as perfect tool for SCRUM
Mads Kristensen – Beyond Visual Studio 2012: What's Coming for Web Developers
Very useful to me! OK, the last one was somewhat out-of-scope for me, but nevertheless a bit useful now working with a gang of web developers. Brian, Fokko and René gave me quite to food for thought, next to some confirmations on what we are doing now with TFS 2012. So thanx guys![B]
For those interested: find Fokko's and René"s slide decks here:
And what about Dynamics?
Well nothing different. Just like before. Nag, nag, nag, nag … [8o|]