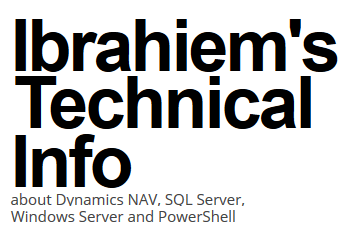 This week my annoyance got that high that I decided to spent some time on getting the issue fixed. I guess we all run into this once in a while: things do not exactly go the way you would like it, but, OK, you manage having some kind of work around. And, best reason of all: you need to get the thing done and don't have time for it to find the proper fix. Or most probably: you don't give yourself time to do that.
"So what was bothering you, brother Luc?", you might be asking yourself. "What mankind thrilling thing did bug you, lat?"
I really love the tiles in Windows 10. Yes, I already loved them in Windows 8, and still wonder why people were detesting it. Nevertheless, what was annoying me lately, was the fact that I could not find a tile for the Dynamics NAV 2017 Administration Shell. I did have one for the Development Shell. I even had a tile for the 2016 Admin Shell. But this one seemed lost somewhere.
As said I had a workaround, but still didn't have the tile. Finally last week I decided to spent some time Goog…., sorry Binging. No, let's be honest. Yes, I am a former MSFTy, and yes, I have been using Bing a lot, but somehow, unconsciously, I did move to Google. My guilty pleasure?
Right … I was googling and ended up on this page: NAV 2016 Administration Shell shortcut is missing. Seeing the blog title I immediately knew who the author was. Some kind of happiness touched me, seeing your name in the Dynamics blog-o-sphere, Ibrahiem. Great that you joined the community, with a lot of valuable and practical information. And of course, thanx helping me getting rit of my annoyance. [Y]
And at the same time I owe you some kind of apology as your blog goes back already 2 years. Totally unnoticed by me. Sorry for that. [8-|]
Keep us informed!